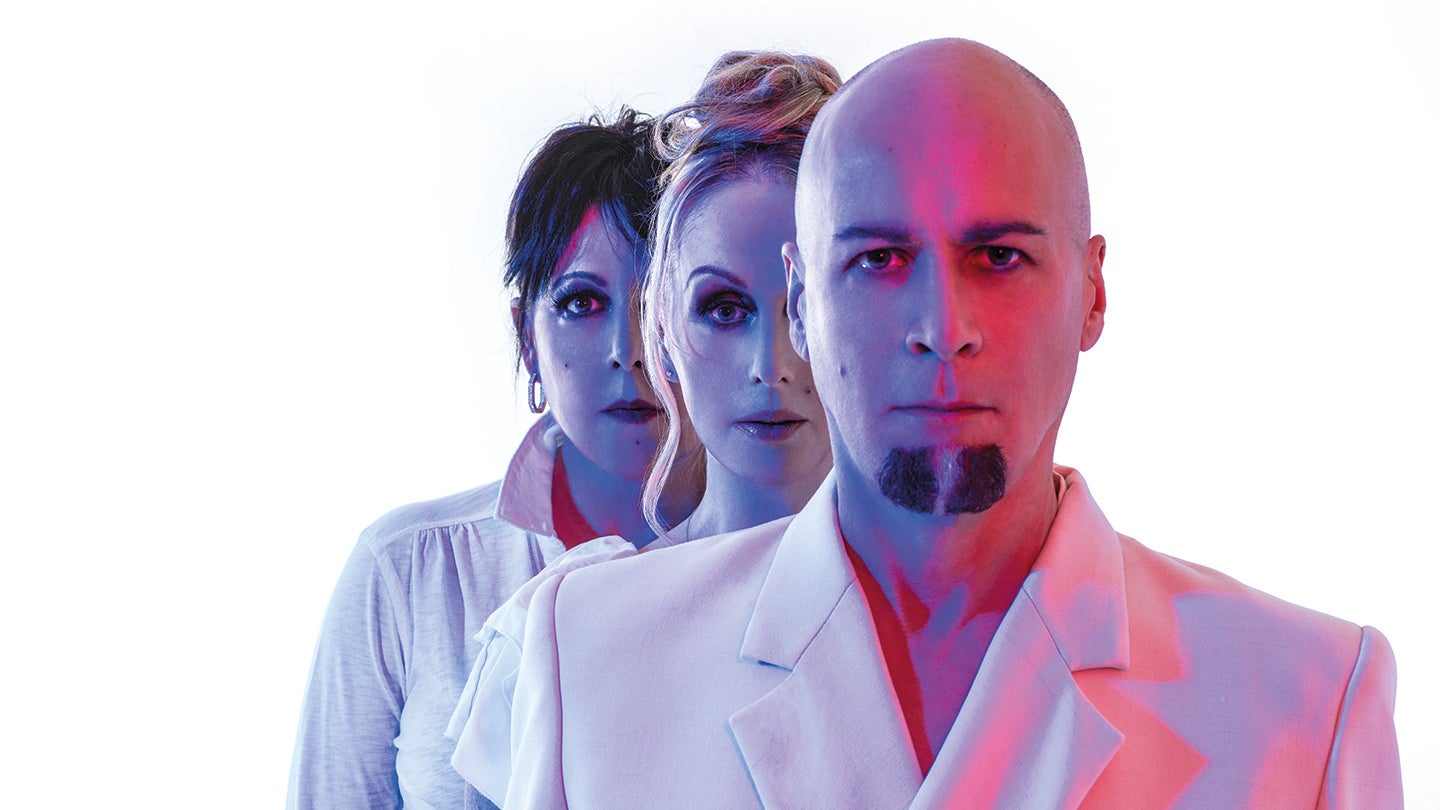 THE HUMAN LEAGUE - Generations Tour 2024
THE HUMAN LEAGUE - Generations Tour 2024
Saturday

14

Dec

/ 2024

Door:

18:30
Event Details
When you're in love, you know you're in love.

In my case, it was Thursday 30th April 1981. I was a bored 13 year old,
watching *Top Of The Pops* with disinterest, when my attention was annexed
by a man with a hairstyle like a half-drawn curtain, two girls next door,
well they were if you lived on the coolest street in Britain, and two guys standing
sullenly behind synthesizers. In the background two audacious reel-to-reel tape machines
whirred provocatively away producing a brutal, pounding robo-beat, throw in some
intriguingly encoded lyrics, "Put your hand in a party wave, pass
around/Make a shroud pulling combs through a backwash frame..." and The Human
League were my new obsession.

The old posters were torn down. The League posters went up. If you were
older and/or more clued in to the musical avant-garde, you already knew all
about The Human League. For my generation, they were the fresh sound of a
new decade. Eagerly, you re-investigated their enigmatic past...

Now, the history books will invariably tell you that The Human League's career is
the tale of two pop groups but, if you listen to their two pre-fame albums,
*Reproduction* (1979) and *Travelogue* (1980), for all the esoteric songs
about the karmic damage caused by the farming of silkworms, "Being Boiled"
written during Phil Oakey's six months as a vegetarian, arch satires on
indie snobbery, or bizarre tales about a love
affair between a crow and a baby, the same threads were there.
This music was always, in essence, unashamedly POP, albeit made
from a post-punk perspective as founders Ian Craig Marsh and Martyn Ware were,
along with Oakey, Roxy Music / Bowie fans who had turned punk, it was in Oakey's own
words, a "consumer version of Kraftwerk".

The disintegration of that line-up, engineered by their then-manager Bob
Last, came about because there were "too many egos" for one group, Oakey
freely admits that he and Ware were both "pompous and arrogant" at that
time. The founding duo left to form Heaven 17, giving Virgin Records two
great synthpop acts for the price of one but, more pressingly, giving Phil
Oakey the headache of a European tour with no band members.

What came next is the stuff of pop mythology. When Phil Oakey met Joanne
Catherall and Susan Anne Sulley - no, they *weren't* working as waitresses
in a cocktail bar, they were too young to be working anywhere - in a
Sheffield nightclub and recruited them to join The Human League Mk II, they
were still schoolgirls. The night after that *Top Of The Pops* performance
they had to rush back north for an A-level exam the following day.
Catherall and Sulley had not previously considered making their living from
music, never having even been in the school choir, but that was fine:
neither had Phil, Ware and Marsh had hired him as their lead singer because
of his height, as much as anything else.

With the addition of bassist Ian Burden and former Rezillos guitarist Jo
Callis, the all-new League made one of the greatest albums of all time,
*Dare*, a ten-song suite of shimmering, intelligent original electronic pop,
punctuated by the singles "Sound Of The Crowd", "Open Your Heart", "Love
Action" and, of course, "Don't You Want Me", an immortal pop classic which
no petrol advert can taint.

"Don't You Want Me", a clever duet between Oakey and Sulley, examining the
death of a love affair from both perspectives, was a song the band never
wanted to release as a single, but it became the biggest selling single of
1981, and proved that the best Christmas Number Ones are the ones which
aren't about Christmas at all and, if this year's chart topper can even come
close, it really will be a seasonal miracle.

There was a pleasing Dadaist blankness to The Human League: what you saw was
what you got. They were prime numbers in a world of complex equations: you
couldn't break them down. Despite the sometimes arcane subject matters of
their songs, there was always a certain straightforwardness to the League.
Even Oakey's handsome Yorkshire accent was never modified to a mid-Atlantic
drawl for the sake of radio digestibility and it's notable that, in 25
years, the band has never left their hometown of Sheffield for the lure of London.

Following the platinum popularity of *Dare* was never going to be easy, and
it took The League two years to complete its somewhat patchy successor,
*Hysteria*, although in the interim, they released a pioneering album of
remixes, *Love And Dancing*, and two fantastic stopgap singles in the form
of the meta - Motown "Mirror Man" and the juicy, jubilant "(Keep Feeling)
Fascination".

Throughout the decade, the League continued to be a successful singles act
with hits like "Louise", "Life On Your Own", "Together In Electric Dreams",
the latter not strictly a HL track but a collaboration between Phil Oakey and Giorgio
Moroder, and the much-mocked "The Lebanon" whose couplet "And where there
used to be some shops/Is where the snipers sometimes hide" recently won a
Worst Lyric Of All Time poll on BBC Radio 1, to Phil's perverse pride. The
way in which they frequently broke pop's fourth wall with acutely
self-aware, personal touches ("This is Phil talking…") and spoken narrative
"When we were apart, I was human too…"
was reminiscent of pop's golden age - to anyone who had
heard the League Mk I's reverent cover of The Righteous Brothers' "You've
Lost That Loving Feeling", this was no surprise.

For their next move, the League surrendered a degree of creative control
but, Sulley believes, saved their career by doing so. They hooked up with
R&B producers Jimmy Jam and Terry Lewis, the former Prince acolytes whose
Flyte Tyme team had recently scored big with Janet Jackson's Nasty album.
Jam and Lewis wrote "Human" for the League, another great
both-sides-of-the-story duet, which became a massive transatlantic smash,
but also, ironically, the band's last significant hit for some time.

Even at the lowest ebb of the League's fashionability and commercial
success, the quality control never really dipped: listen to "Heart Like A
Wheel" from the turn-of-the-Nineties album *Romantic?*, and it can hold its
own with the best of their back catalogue. To many people, the joyous "Tell
Me When?", a top ten hit in 1995 from the Warners album *Octopus*, was a
'comeback', but the truth is that The Human League have always been with us.
Through all the peaks and troughs in their popularity, the League never
broke up, never quit, never went away.

This is one reason why the show you will see tonight differs from so many of
the 80's nostalgia tours currently doing the rounds. The Human League -
who were never about youth revolt, and therefore do not find themselves
embarrassed by singing their older songs today - see what they do,
making adult, quality electronic pop, as an ongoing project. Without a
doubt, these songs will stir memories and associations within you: that's
what great pop music DOES. But the band themselves are mercifully untouched
by retro cheesiness, and always keenly aware of the musical climate, last time I saw
Philip I happened to be carrying a copy of *Dare*, and he told me I ought to
be listening to Ladytron and the Alpinestars instead.


The most recent Human League album, the critically acclaimed *Secrets* (2001), was
unfortunately hamstrung by the collapse of their record label Papillon and a lack of radio
airplay. For the first time in 20 years the leadoff single from a League album
didn't make Top 40. But sonically, the sharp, tough electro sound of tracks like
"All I Ever Wanted" more than held its own amid the new wave of Electroclash
artists, most of who cited the League as an influence. Meanwhile, the use
of old League samples by the likes of Richard X and, perhaps less hiply,
George Michael, shows that the sounds they made two decades ago can get
whole new audiences to stay in time with the rhythm and rhyme.
Throughout the following years, the band has continued to tour frequently, enjoying enduring success and popularity as a live act. In 2004, they released The Human League Live At The Dome, a DVD of a live show in filmed at the Brighton Dome complete with a compilation CD called Live at the Dome. Prior to this, in 2003, Virgin records had released The Very Best of the Human League, a DVD of most of their previously recorded music videos and, at the end of 2005, they released a compilation album of remixes called "The Human League Original Remixes and Rarities" aimed mostly at the DJ/Dance market.
As well as continuing with dedicated Human League tours the band have also appeared at many independent concerts and festivals worldwide. The have played at such prestigious events as the V Festival in 2004, Homelands in 2005, Nokia Trends - Brazil 2005, Festival Internacional de Benicàssim in 2007 and Lovebox in 2008.
On September 22, 2006, the band performed on the U.S. network television show, Jimmy Kimmel Live. This was immediately before the highlight of 2006 (for fans) when they played to an audience of 16,000 at the Hollywood Bowl, Los Angeles, one of their largest solo concerts to date. This was followed up by a short US tour and an extensive tour of Europe in November and December 2006.
In November and December 2007, to mark their 30th anniversary (1977-2007) the band embarked upon The 'Dare! 2007' tour encompassed 25 European venues from London to Stockholm, all of which were sold out. Their set list included (for the first time ever) a performance of the 1981 album Dare played chronologically and in its entirety. This included Philip Oakey playing the Human League's instrumental arrangement of the theme from "Get Carter" on an original Casio VL-Tone from 1981. The remainder of the concert was dedicated to songs from the band's other albums and also included the Oakey/Moroder song "Together in Electric Dreams".
A 12" single remix of "Things That Dreams Are Made Of" (originally from the Dare! album) was released in the UK in January 2008 by Hooj Choons. It peaked at #2 on the UK Dance charts.
Although the subject of retirement is often brought up in interviews, Oakey, Sulley and Catherall have all stated that they still enjoy performing and intend to carry on for "as long as they are filling concerts and people want to see them". Sulley often jokes that she "has to carry on because she doesn't know how to do anything else."
Oakey, Catherall, and Sulley have all said that it is the intention for the band to release a tenth studio album "in the near future" however no details or timescale have been given. On possible collaborations, Oakey stated on BBC TV News and to the NME that "we have a lot of people that want to make records with us

Thirty years on, The Human League still stand tall tall tall, big as a wall wall wall.