close
IMPORTANT INFO - Please read
We can't wait to welcome you to the OVO Arena Wembley. Our number one priority is making sure your visit is as safe and fun as possible.

Before attending an event at our venue please read all of the information on this event page. If there's any event specific information you need to know, we'll update you here.

Please remember, we don't have any cloakrooms in our venue and for security reasons all adult backpacks or rucksacks of any size and any other bags larger than 40 x 35 x 19 cm aren't allowed.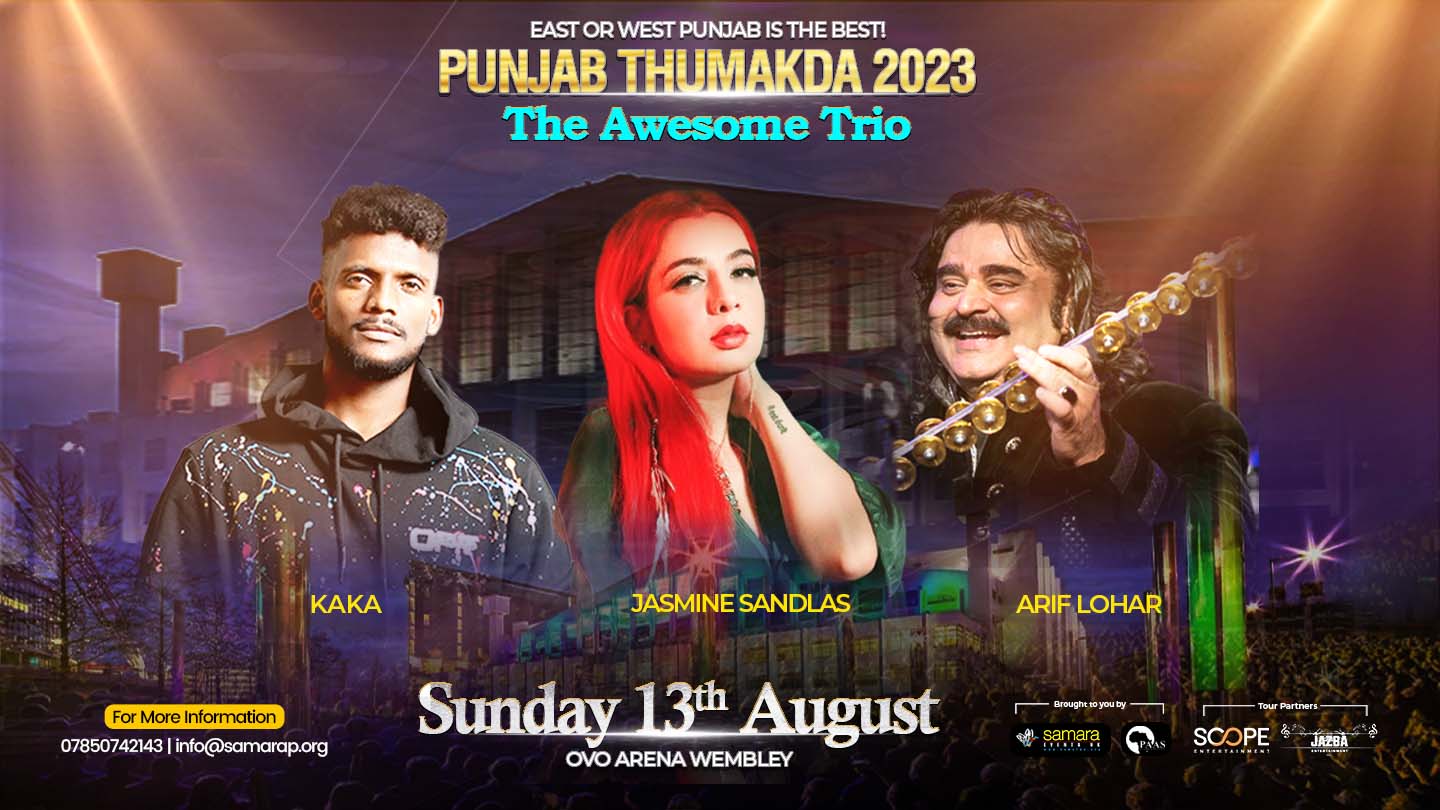 Punjab Thumakda 2023
Punjab Thumakda 2023
Event Details
The Awesome Trio
Jasmine Sandlas
Jasmine Kaur Sandlas is an Indian-American singer, rapper, television personality, performer, songwriter who mainly sings Punjabi songs. She was also featured on the TEDx Talks, MTV Coke Studio and spoken word platforms. Jasmine Sandlas is an independent artist.
Sandlas, born in Jalandar, Punjab, India and raised in Stockton, California always aspired to pursue a career in singing. Sandlas' first song was "Muskan" (2008) became a hit. In 2014, she began her Bollywood playback singing career with the song "Yaar Na Miley" for the film Kick. Upon its release, "Yaar Na Miley" went viral and topped the charts and Sandlas received wide critical acclaim for her singing style as well as earned several awards, including "Most popular song of year 2016 - PTC Punjabi Film Awards" and Screen Award for Best Female Playback. Moreover, she is also known as the Queen of Punjabi music industry among her fans due to her unique style of singing and lifestyle.
Arif Lohar
Arif Lohar A Pakistani Punjabi folk singer. He became popular in Pakistan as well as in India after his famous song "Jugni" with Nooran Lal in 2006. He usually sings accompanied by a native musical instrument resembling tongs (called a 'Chimta'). His folk music is representative of the traditional folk heritage of the Punjab. He is the son of the renowned folk singer Alam Lohar. Arif Lohar was born in 1966 in Lalamusa , Punjab, Pakistan. His father was Alam Lohar, who belonged to the village of Achh in Lalamusa nearby Gujrat Tehsil, and was a prominent folk singer.
Arif Lohar has performed in more than 50 foreign tours around the world during the last 20 years, including tours to the UK, United States and UAE. In 2004, he performed in China for the opening of the Asian Games, which had a crowd of close to 1 million. He once performed in North Korea for the late General Secretary Kim Jong-il as part of an international delegation of peace and goodwill. He has also played multiple lead roles in Punjabi movies, and produced three songs for the soundtrack of Syed Noor's film Jugni (2012), the highest-grossing Pakistani film of 2012. In 2005, Arif Lohar was awarded the Pride of Performance Award by the Government of Pakistan. To date, he has more than 150 albums (including many Singles – LP's) to his credit and recorded more than 3,000 songs, mostly in the Punjabi language.
Kaka Singh
Ravinder Singh professionally known as Kaka Singh, is an Indian singer, song-writer, composer and music director associated with Punjabi Music. He is best known for his songs "Libaas", "Temporary Pyar", "Teeji Seat", "Mere Warga", "Keh Len De" and many more. Kaka Singh was born as Ravinder Singh in Chandumajra, Rajpura in the state of Punjab. He completed his schooling in Ashoka Public School and after that he completed his B.Tech degree in Mechanical Engeering. He also worked as Architect at Punjab Urban Planning and Development Authority after pursuing his graduation. Kaka Singh began his music career with "Surma," a single with Adaab Kharud released in November 2019. In October 2020, his song "Keh Len De" was released under the label of Haani Records. In December 2020, he released the song "Libaas", which later appeared on YouTube's weekly Global Music Chart. His song is listed at number 1 on "Teeji Seat" Gaana's Top 50 Punjabi chart.
Door opening timings (approximate and subject to change)
Foyer/VIP Entrance 5.30pm
Doors 6pm
Finish 10.45pm