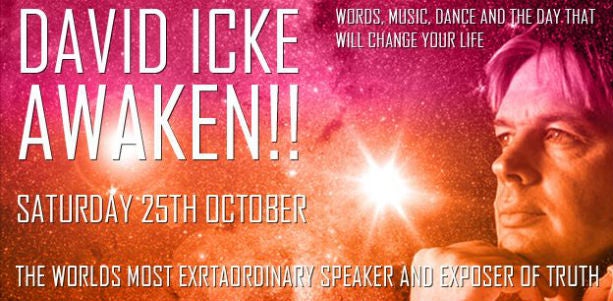 David Icke
David Icke
Event Details
David Icke – The World's Greatest Maverick - People are coming from as far away as the United States, Canada, Australia, South Africa and Brazil to this amazing event.
Please note – this event is not being live-streamed
Doors 9am / Show 10am / Finish 10pm - all times approx and subject to change

"For 25 years David Icke has taken historic levels of ridicule and abuse for calling the world and reality as it really is. Now, with discoveries and world events proving him right by the day, people are at last beginning to see him for what he is – a man way ahead of his time with the guts to tell the truth on a scale and with a depth that no other is prepared to do.

David will lay it all out in simple dot-connected detail through a whole day at the OVO Arena in Wembley, London, with 1,700 images and videos, plus music, dance and many laughs.

No-one else on Planet Earth is doing what David Icke is doing, revealing what he is revealing, to expose the world, reality and life itself for what it really is behind the lies and perception deceptions of a rigged and merciless system that has turned humanity into little more than computer terminals on a global grid of monumental deceit.

This is the last time that David Icke will present an event on this dot-connected scale before heading into other areas of exposure and awakening.

If you miss it, you'll regret it for the rest of your life as world events continue to confirm that David Icke is not the 'nutter' that the mainstream media portray, but a man who has seen beyond the veil and has the courage to tell the tale.

AWAKEN, AWAKEN, AWAKEN"