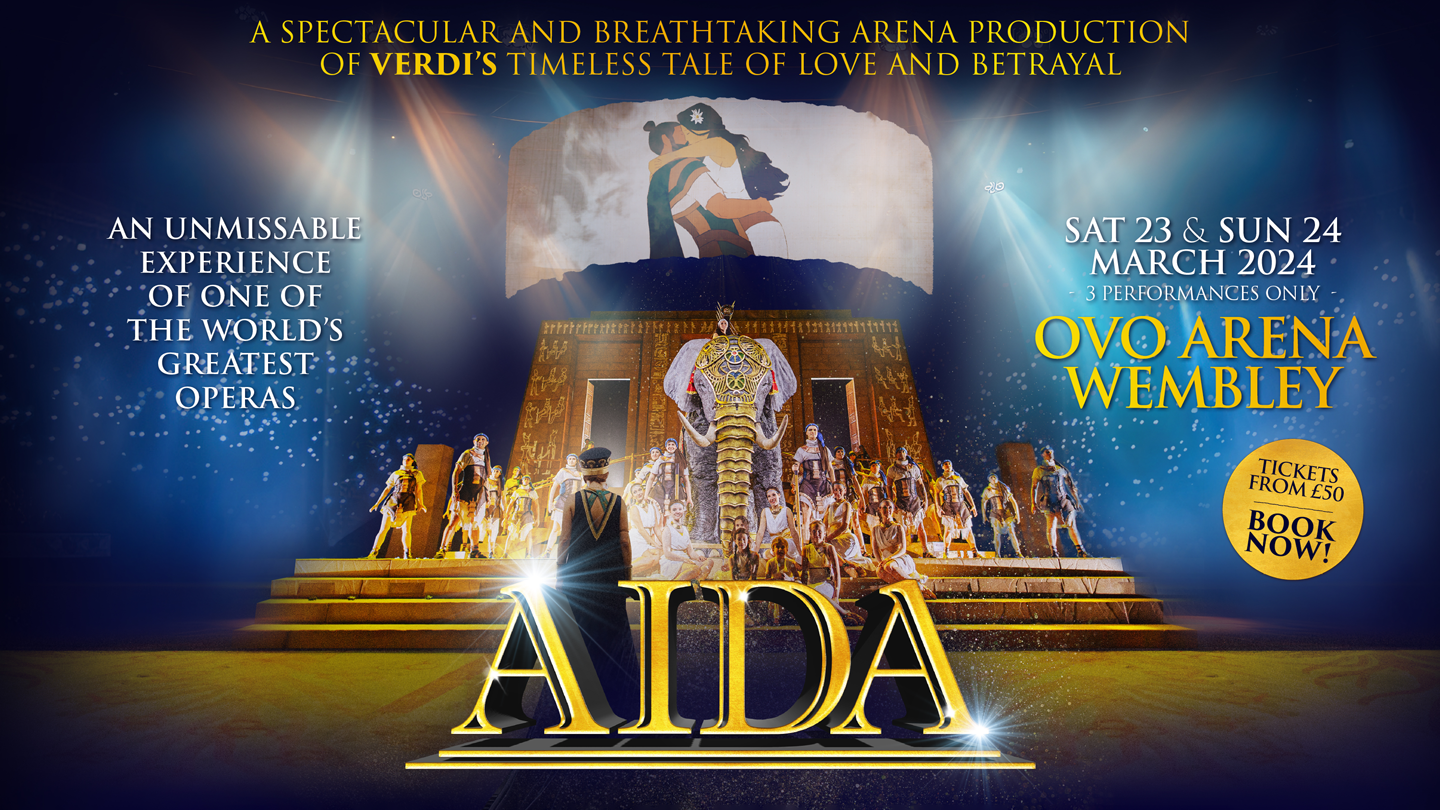 AIDA
AIDA
Saturday

23

Mar

/ 2024

Door:

18:00

Sunday

24

Mar

/ 2024

Door:

12:00

Sunday

24

Mar

/ 2024

Door:

18:00
Event Details
London's biggest opera production this century
London is hosting the biggest opera production it's seen this century, as a groundbreaking performance of Verdi's AIDA plays three performances only at OVO Arena Wembley in March 2024.
A stunning, spectacular event, AIDA brings to life Verdi's timeless tale of love and betrayal set in Ancient Egypt.
The innovative staging combines modern technology including breath-taking digital projections and huge-scale puppetry with the beauty and drama of operatic tradition at an unparalleled scale.
Performed in Italian with surtitles, this magnificent production of Verdi's tragic opera AIDA is the story of an Ethiopian princess (Aida) who was been kidnapped years before and taken to Egypt, there she falls in love with General Radames, who is also loved by the Egyptian princess, Amneris, who Aida serves. When Radames is chosen to lead another war with Ethiopia the battle between Aida's love for the General and her country come to the fore. Against the backdrop of impending conflict and embedded loyalty, emotions and allegiances are tested to breaking point leading to tragic consequences.
The scale of the production is unsurpassed with 250 performers including internationally renowned soloists and the specially commissioned 60-piece Hanseatic Symphony Orchestra. A cyclorama 72sqm screen creates an immersive experience with the venue infused with a perfume to give the imagined scent of the lotus blossoms, pine trees, spices, and the waters of the Nile. 578 stunning costumes and surround sound complete the spectacle with superb choreography creating a 692 square metre fabric River Nile that flows into the audience.
It is an experience you'll not want to miss.