close
IMPORTANT INFO - Please read
We can't wait to welcome you to the OVO Arena Wembley. Our number one priority is making sure your visit is as safe and fun as possible.

Before attending an event at our venue please read all of the information on this event page. If there's any event specific information you need to know, we'll update you here.

You can also read our most up to date measures in place to help keep you safe by clicking the button below.

Safety Measures

Please remember, we don't have any cloakrooms in our venue and for security reasons all adult backpacks of any size and any other bags larger than 40 x 35 x 19 cm aren't allowed.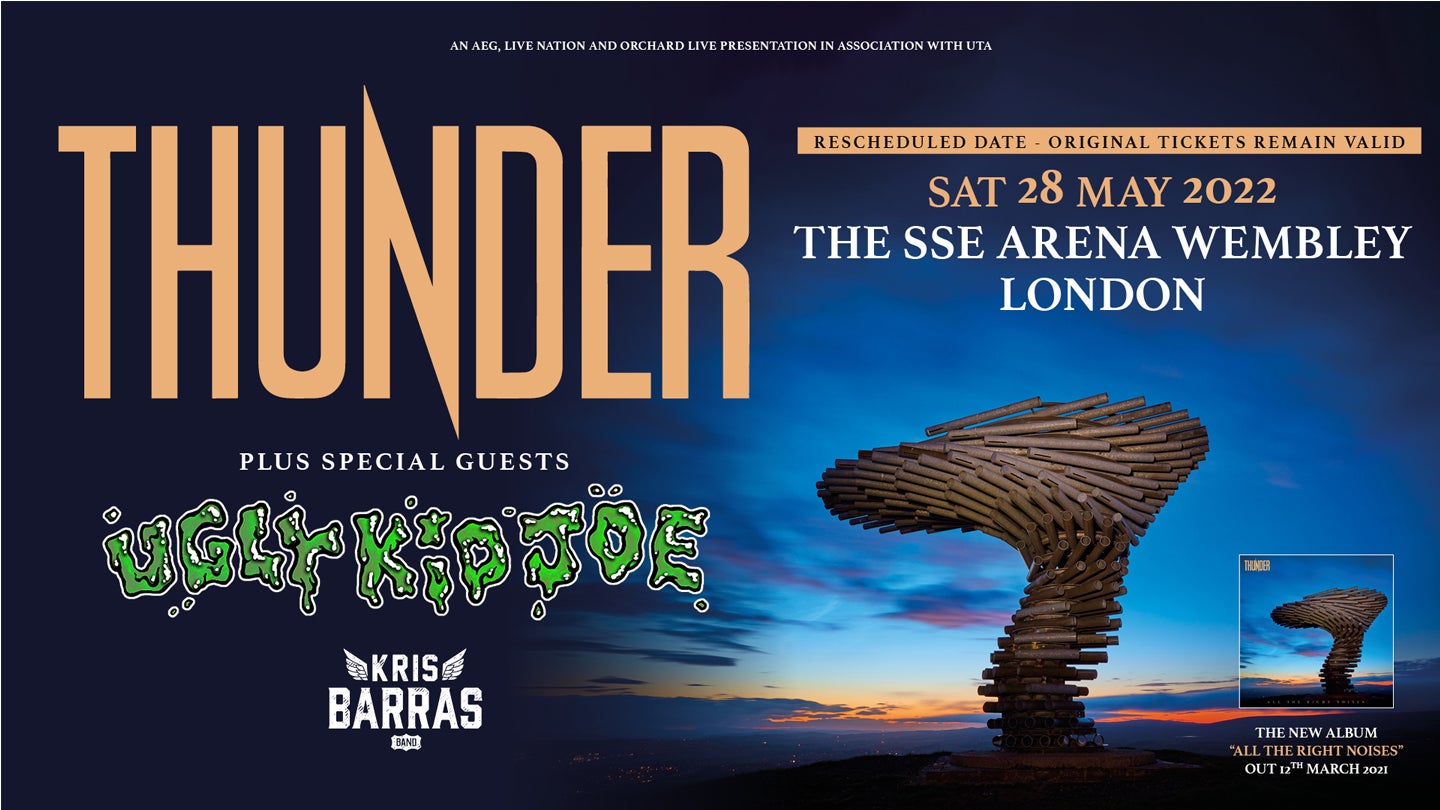 Thunder
RESCHEDULED DATE
Thunder
RESCHEDULED DATE
Stadium event taking place next door:
SKY BET LEAGUE TWO PLAY-OFF FINAL
Mansfield Town v Port Vale KO - 4pm
We therefore we expect heavy congestion in the Wembley area and on public transport. Please read the information on this page in full before attending the event.
Event Details
Plus Special Guest: Ugly Kid Joe and Kris Barras
Statement:
In light of the ongoing situation of COVID-19 globally, the THUNDER show due to take place at OVO Arena Wembley can no longer take place in on 15 May 2021. The show has been rescheduled to 28 May 2022 and all original tickets remain valid.
With Thunder marking three incredible decades as one of Britain's finest rock acts, AEG Presents, Live Nation & Orchard Live are delighted to announce that the band will undertake an Arena tour in. These will be the first fully electric, full-on Thunder headline rock shows in the UK since 2017.
Special guests on all shows will be Ugly Kid Joe, with a different opening band for each arena, especially chosen by Thunder.
Thunder have proved time and time again that they have the hits, the chops and the flair to blow the roof off, and this show will be no exception. Thunder celebrated thirty years at the top of the tree at the end of September, with the release of 'The Greatest Hits' album through BMG.
Door opening timings (approximate and subject to change)
Foyer 5pm
VIP Entrance 5.30pm
Doors to auditorium 6pm
Start 7pm
Finish 10.50pm
Driving information - PLEASE READ
If you are planning on driving to the area, please be advised that the
SKY BET LEAGUE TWO PLAY-OFF FINAL
Mansfield Town v Port Vale KO - 4pm
is taking place next door at the stadium therefore the area will be extremely busy.

There are no remaining pre-bookable parking spaces available in Wembley Park Official Car Park. On the day parking will be subject to limited availability.

We would advise that you endeavour to arrive as early as possible as there may be road closures in place following the end of the Stadium event and these stay in situ for up to two hours.

If you are booked into the Red Parking, please exit the A406 North Circular Road at the A404 Harrow Road to approach the stadium from the west and avoid event day closures..

Please see a useful map with further information HERE.