close
IMPORTANT INFO - Please read
We can't wait to welcome you back to the OVO Arena Wembley. Our number one priority is making sure your visit is as safe and fun as possible.

Before attending an event at our venue please click the button below for our most up to date measures in place to help keep you safe.

Safety Measures

Please remember, we don't have any cloakrooms in our venue and for security reasons all adult backpacks of any size and any other bags larger than 40 x 35 x 19 cm aren't allowed.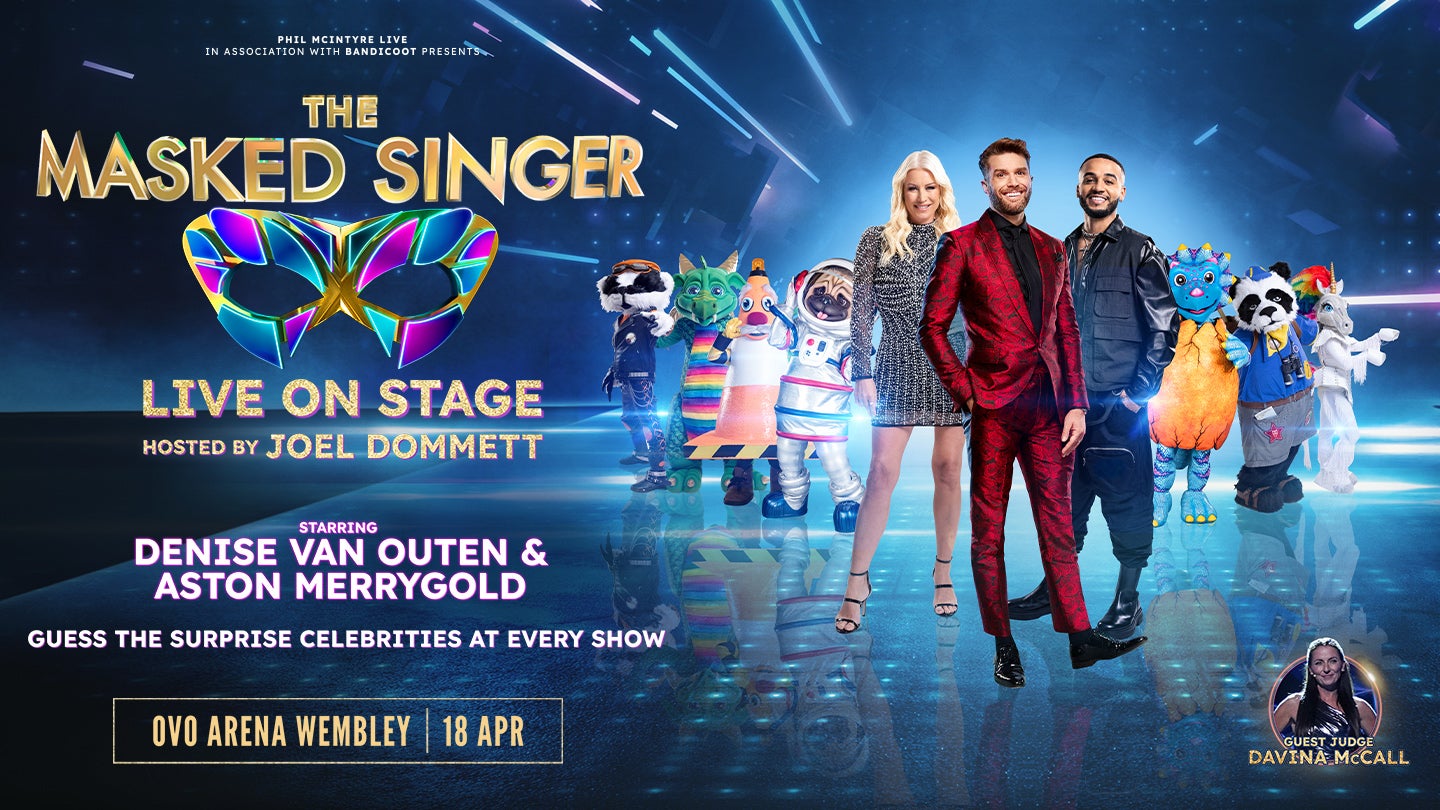 The Masked Singer Live
The Masked Singer Live
Event Details
The Masked Singer Live – Wembley
The biggest entertainment show in the world is coming to an arena near you!
The Masked Singer Live is an all-new stage production from Phil McIntyre Live in Association with Bandicoot Scotland (the producers of the hit TV show).
For the first time ever, your favourite characters will be brought to life live on stage, as different mystery celebrities are unmasked at the end of every performance*. TV host Joel Dommett will also present this first ever live version of the unique guessing game that has gripped the nation, and will be joined by celebrity judges, Davina McCall, Denise Van Outen and Aston Merrygold! Expect stunning set pieces, brand new and ever fabulously elaborate character costumes, along with some of the much-loved TV characters, with a dazzling series of spectacular song and dance routines. The show will be masterminded by Elizabeth Honan, one of the UK's most respected choreographers and creative director of The Masked Singer on ITV. This is a first-class evening of entertainment for the whole family to enjoy.
Think you can guess 'who's that behind the mask?' Don't miss this limited opportunity. Book Now www.themaskedsingerliveuk.com
*We cannot guarantee the appearance of any particular cast of characters.
STEP-BY-STEP GUIDE TO THE MASKED SINGER LIVE ON STAGE
1) Can you guess who's that behind the mask of our brand-new characters? Book now, play the game, and choose the winner!
2) New never-before-seen characters exclusively for the tour
3) With dazzling new celebs unmasked at every arena
4) Five of your favourite characters perform their greatest numbers in a visual spectacle
5) Become the 4th judge along with tour judges Denise Van Outen, Aston Merrygold and host Joel Dommet, plus another celebrity judge exclusive to your city
STEP-BY-STEP GUIDE TO THE MASKED SINGER LIVE ON STAGE
1) Can you guess who's that behind the mask of our brand-new characters? Book now, play the game, and choose the winner!
2) New never-before-seen characters exclusively for the tour
3) With dazzling new celebs unmasked at every arena
4) Five of your favourite characters perform their greatest numbers in a visual spectacle
5) Become the 4th judge along with tour judges Denise Van Outen, Aston Merrygold and host Joel Dommet, plus another celebrity judge exclusive to your city