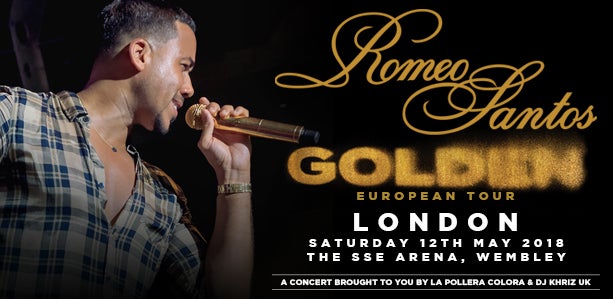 Romeo Santos
Romeo Santos
Event Details
The King of Bachata & Global Latin Super Star Romeo Santos is hitting London as part of his Worldwide 2018 "Golden Tour" which will touch North America, South America & Europe. The Tour kicked off on 15th February 2018 in New York with 3 consecutive Sold Out Dates at the Madison Square Gardens. The tour is titled after his latest studio album "Golden," which was released earlier this year and earned the biggest sales week for a Latin studio album not only of 2017, but in over two years. The album also marks his fourth No. 1 on the Top Latin Albums chart and his third top 10 on the Billboard 200. His latest single "Bella y Sensual" featuring Daddy Yankee and Nicky Jam is currently in the top 20 on Billboard's Hot Latin Song chart.
The Global Superstar, Singer, songwriter, Mogul, Actor, and Producer rose from humble beginnings in the Bronx of NY to worldwide stardom over the course of his unbelievable career. "The King of Bachata" fuelled the success of the "Aventura" Band as lead vocalist, chief producer and songwriter before going Solo. In addition to selling over 100 million singles and 40 million albums, he has won a stunning 17 Billboard Latin Music Awards, 9 Premio Lo Nuestro Awards, 6 ASCAP Awards, 5 Premios Juventud Awards, 3 Billboard Music Awards, 2 Latin American Music Awards, 1 BMI Award, and 1 MTV Award.
Throughout the past decade, the likes of Drake, Marc Anthony, Usher, Enrique Iglesias, Ozuna, Pitbull, Lil Wayne, and more have all jumped at the chance to collaborate with him. An accomplished visionary, he also acts as CEO of "Roc Nation Latino" in addition to appearing in films such as Furious 7 and Angry Birds. No other Latin artist has achieved as many number ones in the 21st century.
Romeo Santos will be performing hits from his whole career starting from his loved classics from his days as a Lead Vocalist of the legendary "Aventura" Bachata Band all the way through to his Solo Albums "Formula 1", "Formula 2", & his most recent album "Golden"! His huge repertoire of hits include "Imitadora", "Sobredosis", "Bella y Sensual", "Yo También", "Propuesta Indecente", "Odio", "Eres Mia", "Promise", "Obsesión", "Ella y Yo", "El Perdedor", "Los Infieles" & more!