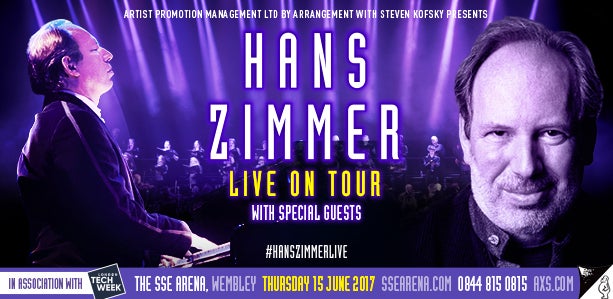 Hans Zimmer
Hans Zimmer
Event Details
Hans Zimmer, Hollywood's most in demand and innovative film music composer whose 100 film scores have made over $24 billion at the box office, will be returning to
OVO Arena Wembley on 15th and 16th June 2017.

Hans' first ever tour 'Hans Zimmer Revealed' in 2016 kicked off with a sold-out two night run here at OVO Arena Wembley before embarking on a 33-city run that included shows in major European cities including, Paris, Berlin, Munich, Prague, Geneva, Dublin and Vienna to name just a few. The tour received rave reviews in every city it visited and due to it's incredible success 2017 will see Hans performing Scandinavia for the first time.

Hans, whose music can currently be heard in BBC 1's 'Planet Earth II' and the Netflix phenomenon 'The Crown' will be joined onstage by his 15 piece studio band, along with an orchestra and choir bringing the total number of musicians on stage to over 60.

'Hans Zimmer Live On Tour' will be a multi-layered experience for concertgoers and a must-see concert event, featuring career-spanning music from Zimmer's multi-decade career.