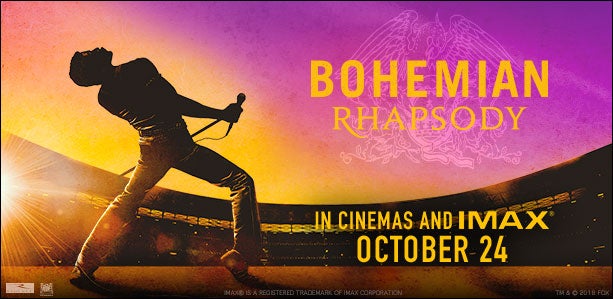 Bohemian Rhapsody - Film Premiere
Bohemian Rhapsody - Film Premiere
Event Details
Twentieth Century Fox is delighted to announce that the World Premiere for Bohemian Rhapsody will be held at OVO Arena Wembley in London on Tuesday 23rd October 2018.
6500 fans will be welcomed to the iconic venue to celebrate the release of Bohemian Rhapsody, walking the red carpet alongside stars of the film Rami Malek, Lucy Boyton, Gwilym Lee, Ben Hardy, Joe Mazzello, Allen Leech, Aidan Gillen, Mike Myers and producer Graham King. Joining the cast on the red carpet will be Queen legends Brian May and Roger Taylor.
Chris Green, Managing Director Twentieth Century Fox UK, commented 'We're delighted to be at OVO Arena Wembley giving Queen fans the chance to share in what is going to be a fantastic event. The venue is perfect for showcasing the show-stopping performances in the film.'
Bohemian Rhapsody is a foot-stomping celebration of Queen, their music and their extraordinary lead singer Freddie Mercury. Freddie defied stereotypes and shattered convention to become one of the most beloved entertainers on the planet. The film traces the meteoric rise of the band through their iconic songs and revolutionary sound. They reach unparalleled success, but in an unexpected turn Freddie, surrounded by darker influences, shuns Queen in pursuit of his solo career. Having suffered greatly without the collaboration of Queen, Freddie manages to reunite with his bandmates just in time for Live Aid. Despite being diagnosed with AIDS, Freddie leads the band in one of the greatest performances in the history of rock music. Queen cements a legacy that continues to inspire outsiders, dreamers and music lovers to this day.