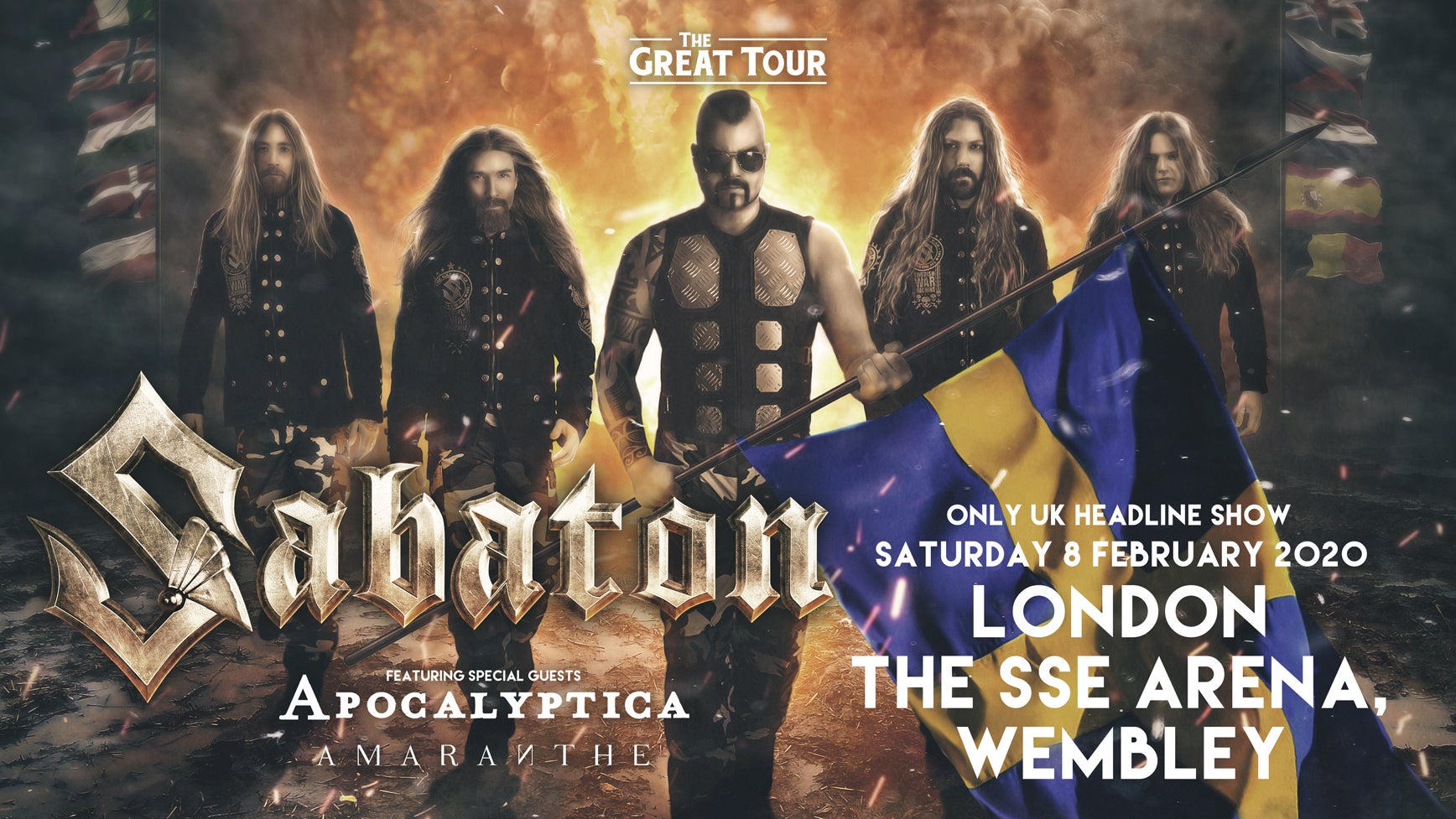 Sabaton
Sabaton
Event Details
Special guests Apocalyptica and support from Amaranthe
Swedish heavy metal heroes SABATON have announced their first ever UK arena headliner as part of 'THE GREAT TOUR'. Hitting the road to support their new album 'The Great War' which comes out July 19th via Nuclear Blast, the band will play 64 shows in 19 countries, including an exclusive UK show with special guests APOCALYPTICA and support from AMARANTHE at the world famous OVO Arena Wembley in London on Saturday 8th February 2020.
"Our journey in UK has been long and full of people who did not believe in us.
Thanks to fantastic fans we have proven over the years that our music will work in UK and now finally we are in the venue where we can use our full production and give all our fans in UK the great show you have been waiting for." announces Pär Sundstöm and adds: "You know by now how much we care about the bands we choose to bring with us on tour, this is no exception. AMARANTHE is a rising star on the metal sky bringing such energy and passion rarely seen on stage and will open the evening. After that comes the big surprise for a lot of people who are not familiar with the cello rock band APOCALYPTICA, but trust us that their emotional show will definitively create magic in the arenas.
Finally what we are bringing, except for our biggest touring production we ever did… Is a promise to deliver a show that you never could imagine and the biggest announcement regarding this tour is still to come."
(Please note all times are approximate and subject to change)
VIP Entrances open: 5 pm
Doors open: 5:30 pm
Amaranthe: 7 pm
Interval: 7:40 pm
Apocalyptica: 8 pm
Interval: 8:50 pm
Sabaton: 9:20 pm
Finish: 11 pm (approx.)
If you've planned to drive to the event, look out for important information here.