close
IMPORTANT INFO - Please read
We can't wait to welcome you back to the OVO Arena Wembley. Our number one priority is making sure your visit is as safe and fun as possible.

Before attending an event at our venue please click the button below for our most up to date measures in place to help keep you safe.

Safety Measures

Please remember, we don't have any cloakrooms in our venue and for security reasons all adult backpacks of any size and any other bags larger than 40 x 35 x 19 cm aren't allowed.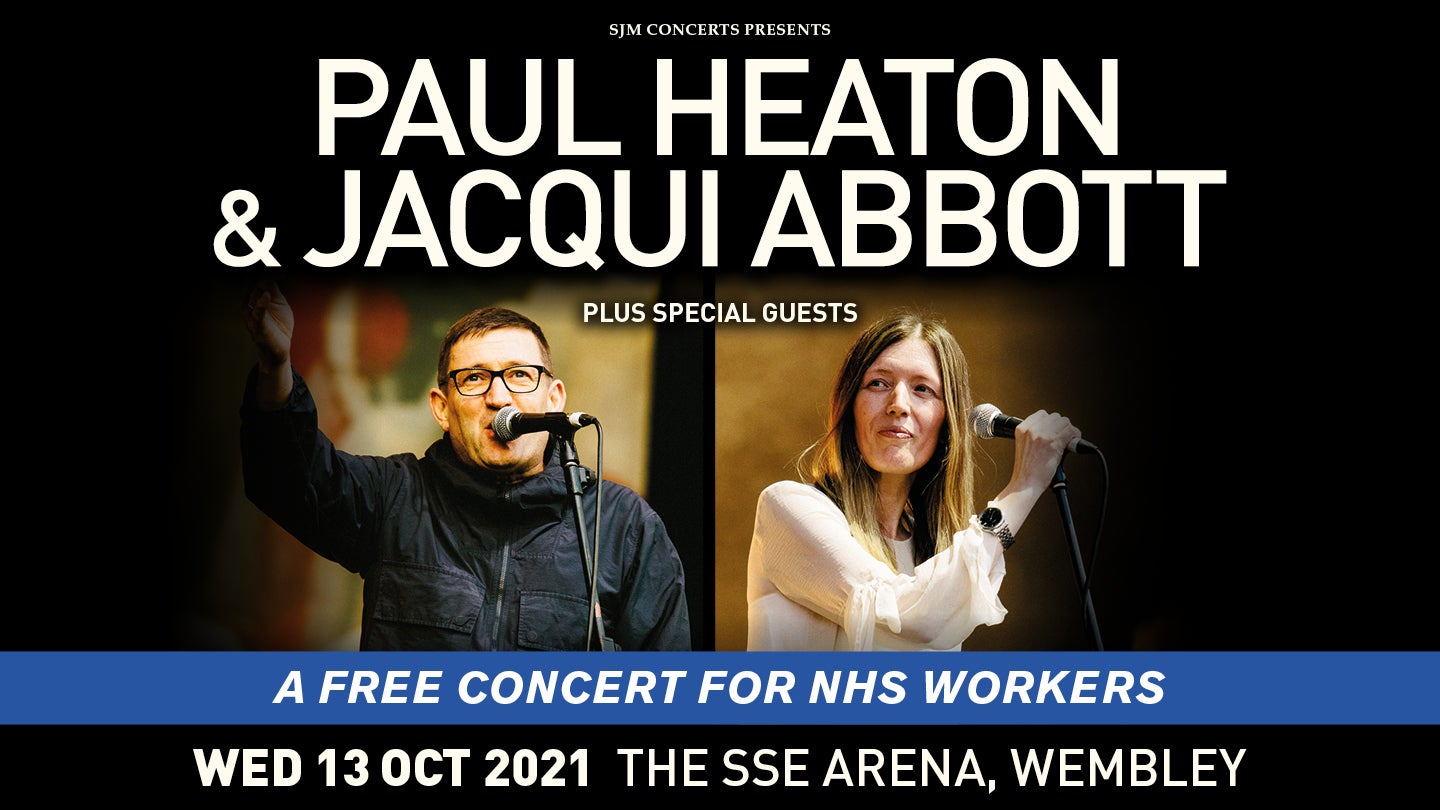 Paul Heaton & Jacqui Abbott: A Free Concert For NHS Workers
RESCHEDULED DATE
Paul Heaton & Jacqui Abbott: A Free Concert For NHS Workers
RESCHEDULED DATE
TICKET APPLICATIONS MUST ONLY BE MADE BY NHS FRONTLINE STAFF AS DETAILED BELOW
PLEASE READ THE PAGE IN FULL INCLUDING THE TICKET T&Cs BELOW
Event Details
"We're very sorry and enormously frustrated to have to make this announcement, but due to the ongoing situation & social distancing rules around the UK & Ireland we have once again been forced into rescheduling our forthcoming tour dates. We've now moved the UK dates to October 2021 (full list below) and we're still working on new dates for Ireland which will be announced at some point in the coming weeks. Your tickets remain valid for all the new dates. We're extremely sorry for any inconvenience caused by this but can't wait to see and perform for you all. 'Til then stay safe."

Due to demand and to allow as many NHS front line and auxiliary staff as possible attend a show, Paul & Jacqui are delighted to add a second Free Concert for NHS Workers, this time at the 11,000 capacity London OVO Arena Wembley.

Those eligible for tickets will be all NHS frontline staff that work within NHS hospitals across the United Kingdom including, but not limited to, doctors, nurses, support workers, porters and cleaners. Any staff that work within the hospital will be eligible to apply for tickets. Eligible NHS staff members are entitled to bring one guest with them but will need two tickets (one for them and one for their guest).
Ticket applications must only be made by the NHS member of staff who must bring their valid NHS or Primary Care Trust I.D card (original format, no photocopies) to the show, as ticket checks will be in operation. All tickets will carry the name of the person who made the booking and this must match the name that is on the NHS or Primary Care Trust I.D card or admission will be refused. The guest of the eligible NHS staff member will need to be present and enter the venue at the same time.

Tickets are limited to 2 per person (eligible NHS staff members and one guest).
If you secure tickets in error as you are not NHS frontline staff, please contact the ticket provider to arrange cancellation of those tickets.
If you secure tickets and find that you are unable to attend, please contact the ticket provider to arrange cancellation of these tickets, to enable the tickets to be available to other NHS Frontline staff.
"The Coronavirus pandemic should remind everyone, and let no-one forget, that our National Health Service is the most brilliant and significant institution in our lives. The men and women who serve us and care for us, give us hope and sacrifice their own wellbeing, can never be thanked enough. We are just musicians, so there is little we can do but sing for you. By way of appreciation, we announce the following gig for all frontline NHS staff. From the porters, the cleaners and the drivers, to the doctors and the nurses; thank you."
Standing - No under 14's and under 15's must be accompanied by an adult
Seated – under 14's need to be accompanied

PROMOTER TERMS AND CONDITIONS
1. This event is a thank you to all frontline NHS and auxiliary staff. Tickets are available for frontline staff only, including but not limited to doctors, nurses, porters, cleaners, support workers. Please respect this, ID checks will be in place.
2. This ticket is a personal, revocable license and, at all times, remains the property of the Promoters. This ticket must be surrendered to the Promoters upon request.
3. This ticket is issued by the Promoters directly to the Consumer. Any tickets purchased by business or traders in breach of the Terms and Conditions of Ticket Sale will be cancelled.
4. This ticket will IMMEDIATELY BECOME INVALID if SOLD OR OFFERED FOR SALE. Tickets sold via third parties and other unauthorised outlets, including online auction sites, are not valid for admission. Reselling a ticket makes it void and the ticketholder may be refused entry.
5. The surname of the Lead Booker will be printed on all tickets. The name cannot be changed once the booking has been made. Where more than one ticket has been issued, each guest in the party must arrive with the Lead Booker at the venue on the night of the show. Failure to do so will result in the guests being turned away. Tickets cannot be left at the box office for collection. There will be no re-admittance allowed. No duplicates will be issued for lost or destroyed tickets.
6. To gain admission to the concert, the Lead Booker must bring:
i) The tickets
ii) A valid NHS ID or Primary Care Trust ID card (original format, no photocopies) matching the Lead Booker surname on the tickets, or details of employment if NHS contract staff.
Failure to bring all the items i) and ii) above will result in refusal of admission to the concert.
7. Ticket sales are limited to a maximum of 2 tickets per person.
8. Ticket has no monetary value.

Timings are approximate and subject to change at the artists' discretion:

Foyer open 5pm
VIP Entrance open 5.30pm
Doors to building/Auditorium 6pm
Support 7.45pm
Interval 8.15pm
Main Act 8.45pm
Finish 10.30pm